I am a homeschool, type-A personality, writer, planner, woman… why wouldn't I be excited about the ESV Journaling Bible? In fact, I'm even more excited that I get to offer a free copy to one of you! Let me show you just a few of the features in this beautiful Bible and then enter to win the giveaway! Pin this image while you're here (it counts as 3 entries in the giveaway, just save the URL of your pin by pressing "see it now").
ESV Journaling Bible Features.
The ESV Journaling Bible is an English Standard Version Bible, for more information on this version, click here. It features a 2″ ruled margin for writing reflections, prayers, thoughts, notes, and journal entries. It includes a simple one-year Bible reading plan at the end as well as introductions and overviews of all the chapters of the Bible in a simple, easy-to-follow layout. It was published by Crossway, a publishing ministry of Good News Publishers. It has a section at the back for God's Plan to Save you, covering the major moments throughout the Bible and how they all tie together to create the "master plan".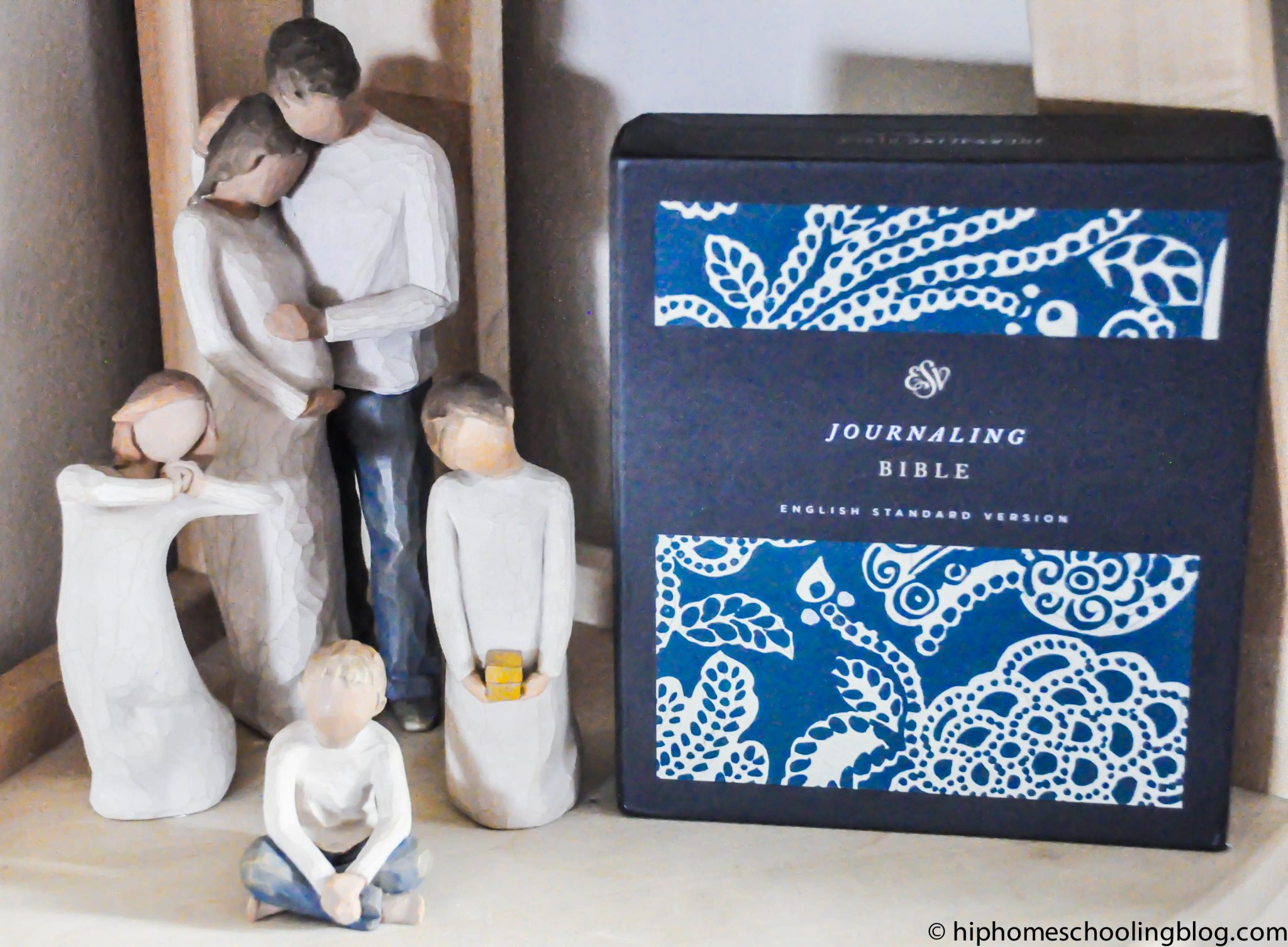 It comes in a sturdy, pretty little box in "Blue Flora" making it the perfect gift for anyone that is looking to dive deeper into God's word.
My Thoughts on the ESV Journaling Bible
Overall I was very impressed. The Bible is smaller than most, measuring about 7 1/2″ long by 6 1/2″ wide. I actually prefer this size, it is easy to take with you wherever you go and comes in a strong cardboard box for added protection. The book is covered with cloth over board so it has a soft feel to it. I love the 2″ margins, there is plenty of space to mark in thoughts, prayers, reflections and more and the light ruled lines help ensure at least a bit of uniformity in my ramblings. The pages are different than a typical Bible, a bit thicker, while still being thin. However I think this helps give you a bit more freedom with your writing/highlighting and helps it hold up to all the writing.
I love love love the simple one year Bible reading plan at the end. If followed, it will guide you through the Old Testament once, twice through the Psalms and twice through the New Testament. It is separated by months and days so you can start at any time of the year and keep track of your reading. It is right in your Bible so you don't have to go to external sources plus you still have that 2″ margin to keep track of your progress right there. I was thrilled to discover it in the back and enjoyed the layout immensely.
I think this is well worth the investment and am really looking forward to diving in more. I like the size, the layout, and I think this would make a really beautiful gift for any person in your life. If you want to purchase a copy of your own in time for Christmas, you can find it on Amazon for $10 off. Otherwise, make sure to enter the giveaway at the bottom for a chance to win one for free!
Enter to win your own copy of this beautiful ESV Journaling Bible.
Many thanks to Propeller Consulting, LLC for providing this prize for the giveaway. Choice of winners and opinions are 100% my own and NOT influenced by monetary compensation. I did receive a sample of the product in exchange for this review and post.