Do you have a family game night in your home? Playing games together is a great bonding tool, but did you also know it helps improve social skills, intelligence, problem solving skills and communication skills? If you don't have a family game night scheduled in to your homeschool planner, I challenge you to add it in this month! I was recently offered an opportunity to review Wonky: The Crazy Cubes Card Game and Tapple: Fast Word Fun for Everyone by USAopoly. I'll admit, I had never heard of these games before nor the company but I was looking forward to some new games to play together as a family that were educational at the same time (a homeschool moms dream!).
Family Game Night with Wonky: The Crazy Cubes Card Game.
We started out playing Wonky: The Crazy Cubes Card Game. The game says it is for kids ages 8 and up so I was a bit concerned about using it with my younger children (7, 5). But the reality is you can't have family game night without the whole family, so we pulled it out, dealt the cards and dove in! The idea behind this game is actually pretty ingenious. My children were reinforcing their colors, organizing and picking out blocks based by size and learning about strategy at the same time. To play the game, each player is dealt a hand of cards with different images on them.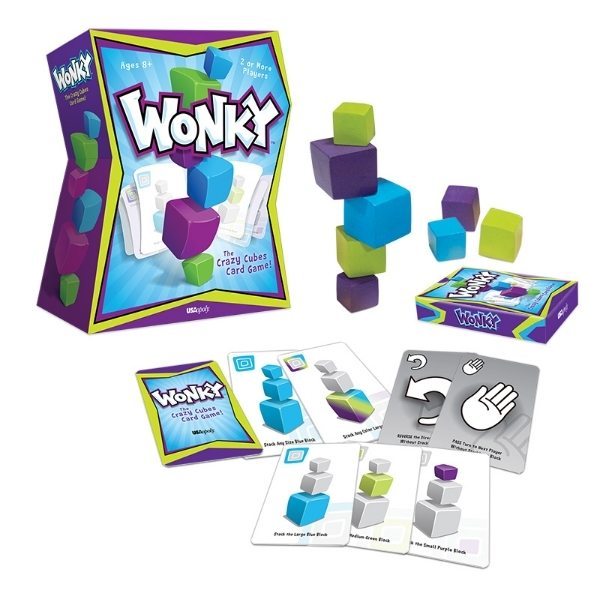 The images on the cards tell you which color of block to use and which size. There are also cards that allow you to choose any color or any size block, reverse the direction of play, or skip your turn. It is a relatively simple game and all of my children (including my 5 year old) were able to play with a little bit of direction from me.
Family game night with Tapple: Fast Word Fun for Everyone.
Next, we pulled out Tapple: Fast Word Fun for Everyone. This game needed two AA batteries (which I always have on hand) and we were good to go! I'm going to pause here and make a confession. It has been a LONG time since I enjoyed playing a game with my kids. My children are young, and games for young children are often boring for me. However as we started passing around this wheel and yelling out words and the timer was beeping and my kids were blowing me away with their answers, I realized that I was having a BLAST! In fact, I was having so much fun, I let the kids stay up late, put the littles into bed and we kept on playing. Not only was this one of the most enjoyable experiences with my children I have had in a long time, but it was educational at the same time.
We ALL focused on letting go of a little bit of our competitive nature. We were bonding and laughing and joking together. My 5 year old was reinforcing his alphabet and therefore his reading and phonics skills at the same time. My children were learning how to be a good looser and have a good attitude even when they weren't "winning". There were so many positive outcomes to this game that I quite honestly can't give it anything less than my most positive review. I was blown away by Tapple: Fast Word Fun for Everyone.  I would recommend this game to anyone, I would go out and buy it at full price, and I would play it with adults. It is quite honestly one of the most enjoyable, entertaining, and inclusive games I have ever played. One that can truly be enjoyed by the whole family.
If you don't own Tapple: Fast Word Fun for Everyone or haven't heard of USAopoly before, I encourage you to check them out on their social media channels below:
Twitter https://twitter.com/USAopoly
Instagram https://instagram.com/usaopoly/
Facebook https://www.facebook.com/usaopoly
Pinterest https://www.pinterest.com/usaopoly/
If you want to read more reviews, make sure you hop over to the Schoolhouse Review Crew HERE and check out what other homeschool moms thought of the games!

Do you have family game night in your home?