Many parents are interested in how to learn a language in their homeschool but don't know where to start or what program they should use. I recently discovered Middlebury Interactive Languages and was thrilled when I was chosen to review their Elementary French 1: Grades 3-5 with my 8 year old son. We have some dear family friends who speak French and as that is one of our National languages in Canada, I have long thought it would be beneficial to add this to our homeschool day. Make sure to pin this for later so you don't lose this post!
What is Middlebury Interactive Languages?
Middlebury Interactive Languages is an online language learning program. They teach Chinese, French, German, and Spanish from K-12. The lessons are all online, meaning all you need is a computer or tablet and internet connection to do them. You can purchase either a semester (6 months) or an entire year and have the option of purchasing just the student license or a semester of lessons with a teacher. The teacher connects with your child to provide additional support and encouragement as well as feedback and help with the assignments. If you have been looking for a simple yet comprehensive language program with a variety of options, this may be for you!
How to learn a language with Middlebury Interactive Languages.
When we first logged on to our dashboard, I must admit I was slightly confused as to where to start. The top of my screen was blank and when I scrolled down all I saw was Up Next and what looked like text. I clicked on "welcome" and it took me right to my lesson. Take a look at the initial screenshot from my first login.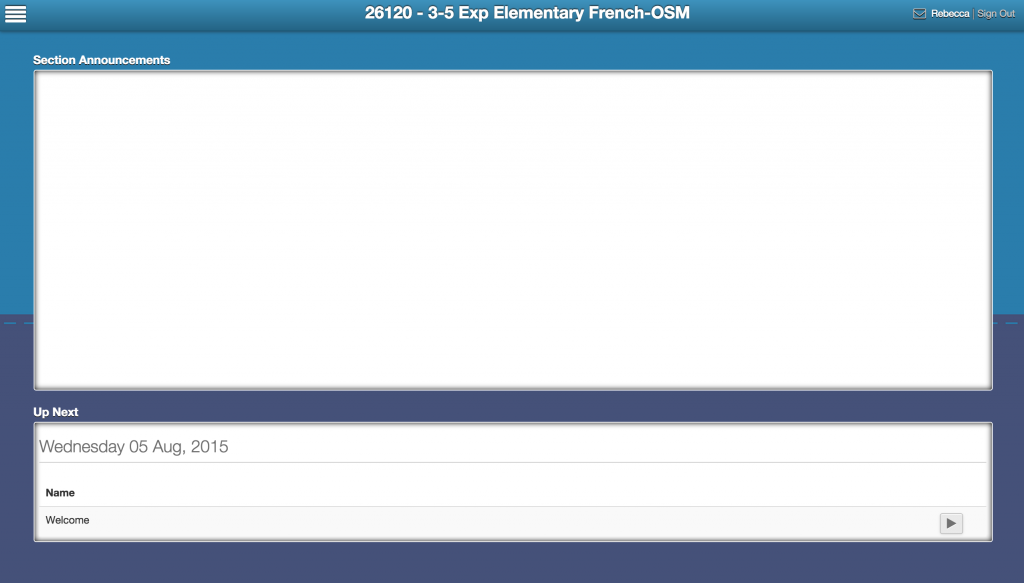 Once I was in my lesson, it is laid out kind of like a slideshow. You can see the upcoming "slides" (or lesson pages) on the left hand side while you are working on the screen in front of you. Here's another screenshot to show you what I mean.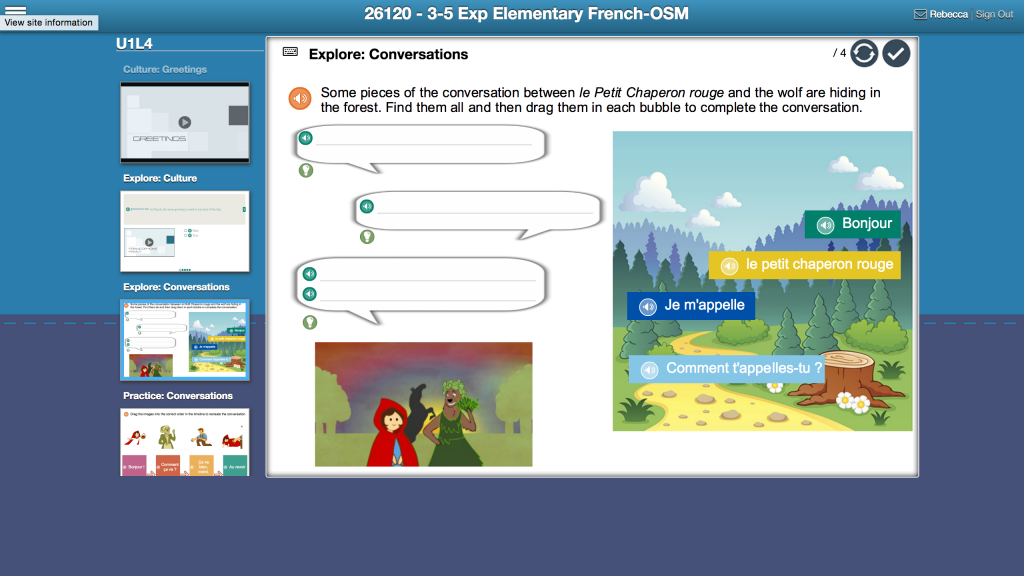 You need to authorize your computer to use your microphone in order to participate in a lot of the lessons, which is not a big deal, just an extra step when you first start your lesson. Your computer will prompt you to do so and you can listen to what the phrase sounds like by a native speaker and then record your own voice saying the phrases. The computer does not "mark" your pronunciation, this would be an added feature to working with a teacher. However, the computer marks your participation in these exercises before you move on. For questions that have a right and wrong answer, the computer will mark how many you get correct before you move on to the next page, which is a nice feature.
Hip Homeschooling's Official Review of Middlebury Interactive Languages.
On the positive side of things, I really enjoy the way the program works. I like how you listen to native speakers and instead of being broken down into vocabulary to memorize, it teaches phrases. The phrases are connected to pictures and stories which helps your brain form connections between the sound of the word, the spelling/look of the word and the meaning of the word. I think it is incredibly comprehensive and the pace of learning is fast, without being too overwhelming. I like how there are a number of different languages to choose from and that it goes all the way up to grade 12. I could see this as a program that could easily be integrated into your yearly homeschool plan.
The program is lacking in some areas as far as the technicalities go. I found that the dashboard is poorly laid out and not very clear with what is happening. It could be more user-friendly if it were laid out as a parent/teacher dashboard with your students listed as well as where they are at in the program, their grades, etc. (perhaps with a secondary student login area). The main website has no place from which to log in. I found this a bit strange. Instead you have to go to a separate app. page which you are given the link to in your e-mail. This works fine, I just bookmarked it, but I don't know if I have ever come across a website before that does not have a way to log in from the main website.
What it really comes down to is price. The program is $119 per semester for each student plus an additional $175 per semester if you have teacher support. Considering my large family, this would be $590 (without teacher support) for our family for just 1 semester of a foreign language. Now, some of my children are yet too young for the program so I would only technically be using it for 3 students at this point instead of 5. That being said, I feel that it would be worth it if you only had 1 child using the program. If you have a larger family, the cost of this program exceeds private lessons that all your children could attend together.
The verdict is in… do I recommend Middlebury Interactive Languages to my readers?
There's no question, I think it is a valuable program and we really enjoyed it. It works well for a variety of learning styles and the layout of the dashboard is easy to dismiss in light of the value of the program. I think for many people it would work well, especially if you only had one student that would be using the program. If you have a large family or are looking for a long-term language program that fits within a budget, you may find that Middlebury Interactive Languages does not work for you.
If you are looking for more reviews on the subject to help you make up your mind, make sure to hop on over to the Schoolhouse Review Crew page to see what other homeschooler's thought of the program. You can also find Middlebury Interactive Languages on their social media by clicking on the links below:
Twitter https://twitter.com/MiddInteractive
Instagram https://instagram.com/languageacademy/
Facebook https://www.facebook.com/pages/Middlebury-Interactive-Languages/141015515949753
Pinterest https://www.pinterest.com/middinteractive/