I love journaling and I love fountain pens, but I haven't yet found a good insert for my traveler's notebook (TN) that works well with my fountain pens. Because I can't stand ink bleeding through my pages (essentially making the back side unusable), I tend to buy thicker paper and inserts and now have a bulky and heavy TN. I NEVER would have guessed that the answer to my frustration would be thinner paper! Today I am going to introduce you to Tomoe River paper and Lulu Lime Designs, plus I have an AMAZING giveaway for you at the end so stick around and pin this image for later!
What is Lulu Lime Designs?
Lulu Lime Designs is a website that creates beautiful art and prints them on stickers, pouches, cards, inserts, and more! The first time I heard about them was in a group where they posted some of their paintings and I fell in love! Their style of art is very whimsical and unique and better than anything I could ever create! She describes her art as contemporary abstract.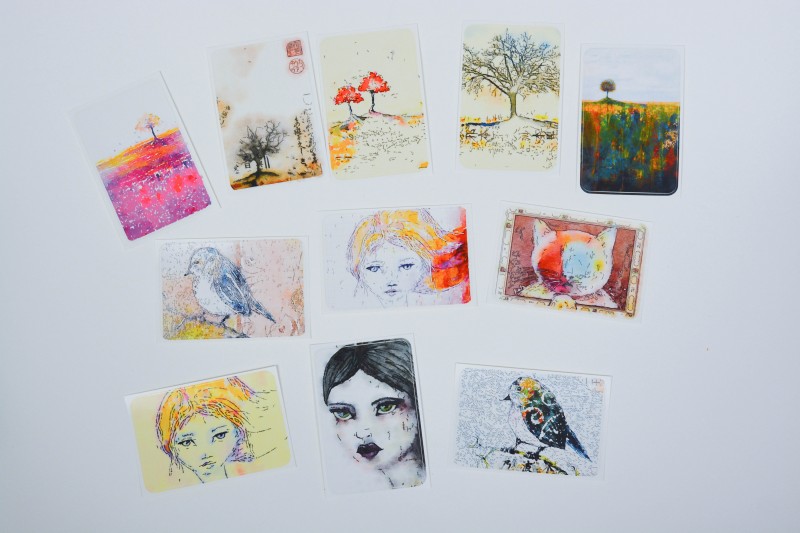 I love the colors and details in each painting and chose my favorites. The inserts are sold in a variety of sizes from pocket all the way to wide. I got the wide version which measures approximately 5″ wide x 8.25″ long. This fits perfectly in my extra wide altguild TN with room to spare! The inserts are thin and lightweight, largely due to the type of paper that is used. They are saddle stitched rather than stapled so they lay flat when you are working with them. The paintings are printed on to the front of the cover which gives it a clean finish and bright, vivid colors with every insert!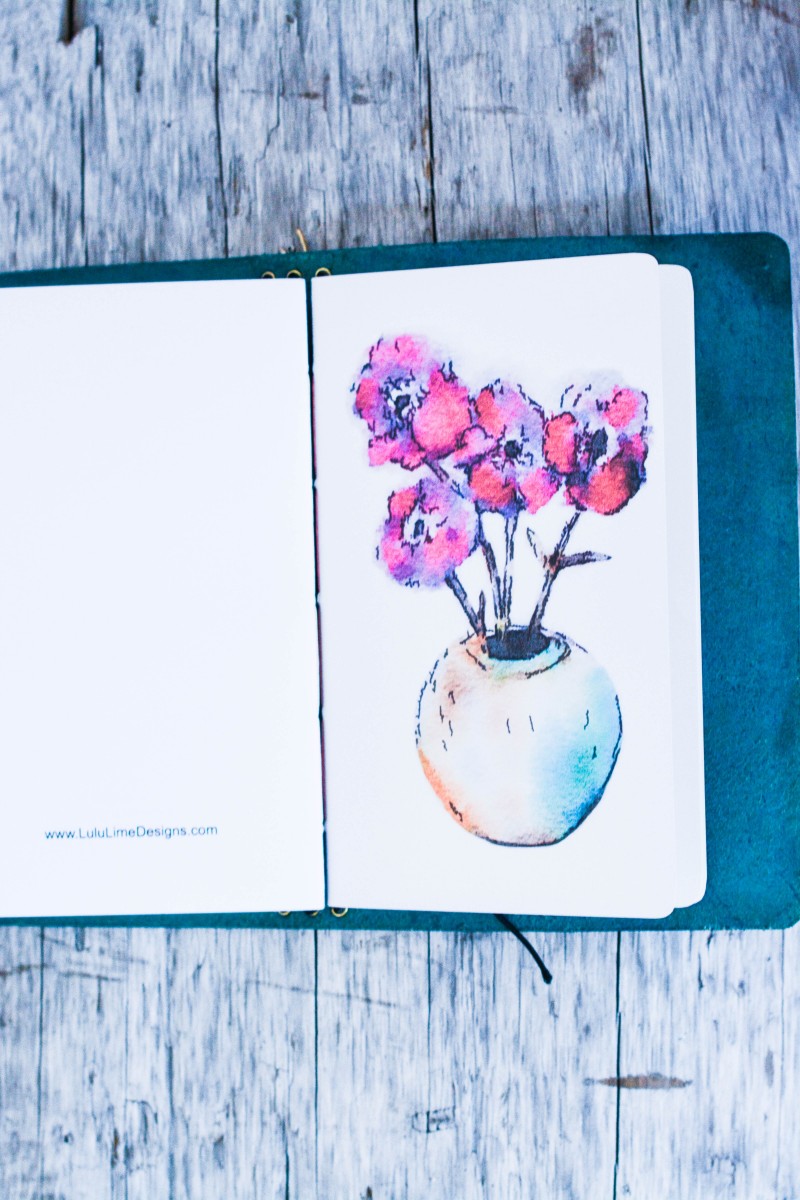 Why Tomoe River paper?
I had heard of Tomoe River paper, but I had never tried it before. The paper is very thin and lightweight, almost like Bible paper. It is Japanese and was originally made to be used for mass production, it is only 52gsm and I couldn't help but be highly skeptical that it would hold up to my flex fountain pens and thicker nib sized pens. After trying out my heaviest ink pen, I was blown away, it only bled through in a few places where I went too slow. With my normal medium-nib fountain pen, there was no bleed through at all. There is a bit of ghosting because the paper is so thin, but the paper is smooth to write on and holds up amazingly well! I can't get over the crinkle of the paper and honestly can't wait to fill these inserts up!
Why I love these inserts
Not only is the art beautiful, but the paper is functional! I love when practical, useful items can be beautiful and that is what Vanessa offers in her shop. I have 7 of these inserts and I already know this won't be enough! My favorite art prints are the bird and the tree, though the flowers in the vase are a close third. If you have been looking for some inserts for your TN, you have to check out Lulu Lime Designs! Shipping was fast and affordable (even to Canada), customer service is detailed and helpful, and quality is unmatched! Take a look at how my package arrived! So much care is put into packing up that box!
Enter to win an artist journal set valued at $80!!!!
Vanessa is generously offering to giveaway an amazing package including: 3 Inserts in size of choice, stickers, mini stickers, 2 fine art prints and a watercolor Prima paint palette. Take a look at what you could win below!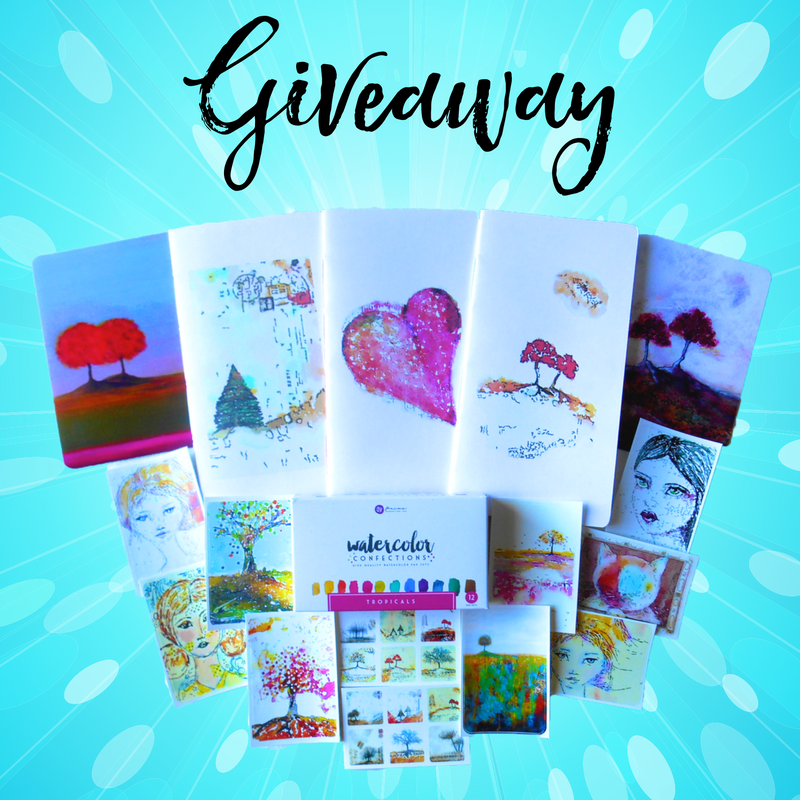 The giveaway is open to both US and Canada and entries are easy! Make sure you use a valid email address when you enter so that I can contact you! The winner will be e-mailed once the giveaway closes and has 24 hours to respond before another winner is chosen.
Art Journaling for Kids
To finish off the series tomorrow, I wanted to talk about art journaling for kids and how we use that in our homeschool. I will be sharing my top tips to get your kids interested in art and what that looks like in our house. Journaling is fun on it's own, it's even better when you can do it as a family around the table with some tea and classical music! Come on over and join me!
Did you know this is part of a 31 day series? There will be a post each day this month showcasing how I use bullet journaling, planning, hand lettering, and more! We will talk about the tools you need and I'll review some of my pen hoard (including my brand new flex fountain pens, eeeeek!). There will be videos, pictures, hand lettering practise pages, doodle challenges, journaling prompts, some amazing giveaways, and hopefully a TON of inspiration to get you writing in your planner, whatever that may look like for you!
How can you get on board? BOOKMARK THE LANDING PAGE (that is where all the posts will be added throughout the month) FIND ME ON INSTAGRAM (I'll be posting the daily posts there) USE THE HASHTAG: #PlanWithRebecca or #planninginspiration4u on Instagram for a chance to be featured on my page! JOIN THE NEWSLETTER (if you want an short update on the latest post in your inbox)
What is your favorite Lulu Lime Designs insert?