I am always on the lookout for Bible curriculum that isn't boring, that makes the Bible come to life for my children! God isn't boring and neither is His story, why should our curriculum be????
Grapevine Bible Studies' catch phrase is "Stick Figuring Through the Bible." Their approach is to teach symbols and have the kids draw out the story in simple stick figures. This accomplishes a few things, they are recreating the story in a visual format to help them remember it, they are keeping their hands busy but their minds on the lesson at the same time (great for kinesthetic and visual learners), plus they are interacting with the story in this multisensory approach! Make sure you pin this image for later reference!
Grapevine Studies Amazing Bible Curriculum for Kids!
Before you start using this program, you will need a Bible, a dry erase board or chalk board (although you could use a large flipchart/poster paper as well if you have one), and the student lesson pages. You have a number of option on the website, either print version or ebook. Print version you have to purchase one for each child, pay shipping, and wait two weeks for it to come. The ebook can be used for the whole family (it is a family license), is sent to you immediately (so no waiting!) and can be printed either at home lesson by lesson OR sent to Staples Copy and Print and printed and stapled together in a little booklet style for about $8 (CAD, not sure about prices in the US).
Because we are using this curriculum with all three children, we have found the ebook to be a better fit for our family. We printed off 4 books for the kids of the level 1 student "Creation to Jacob" at Staples, 2 traceable versions for my younger ones and two of the regular ones for the older kids. The traceable version has the figures and symbols already there in a light grey and the kids can draw or color over top of them! It is a fantastic way of getting the younger kids involved in the lesson without overwhelming them.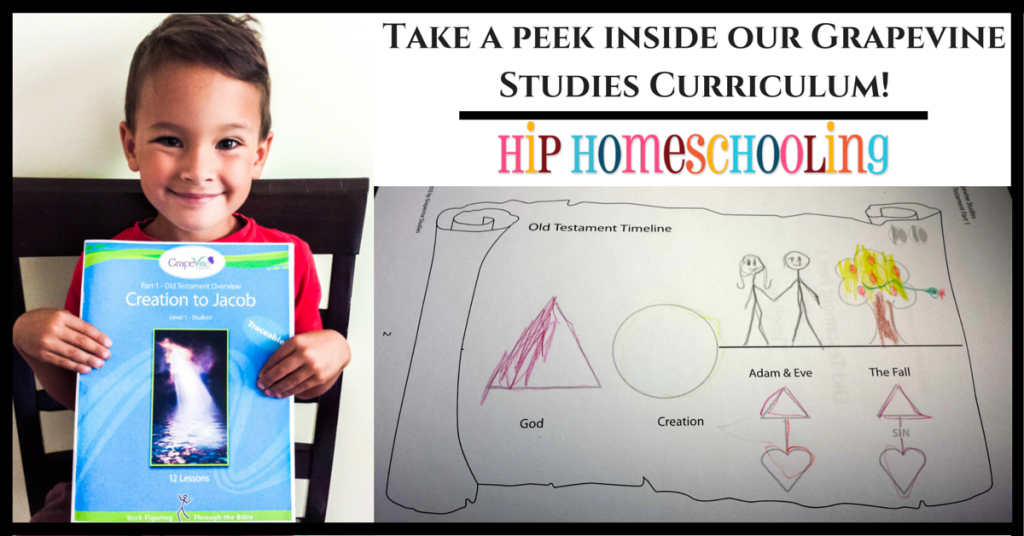 How to teach GrapeVine Studies
You may be concerned that you aren't much of an artist, but that is the great thing about Grapevine Studies… anyone can draw stick figures! Your lessons are very clearly laid out in the teachers guide. It tells you what to read from the Bible, what to discuss and what to draw on the white board. It even shows you the images to draw so you can just hold up your guide and draw it from there (no having to check the kids' book!). It even tells you what words to look up in a Bible Dictionary (which you can find online if you don't own one) as well as giving you memory verses to work from each week.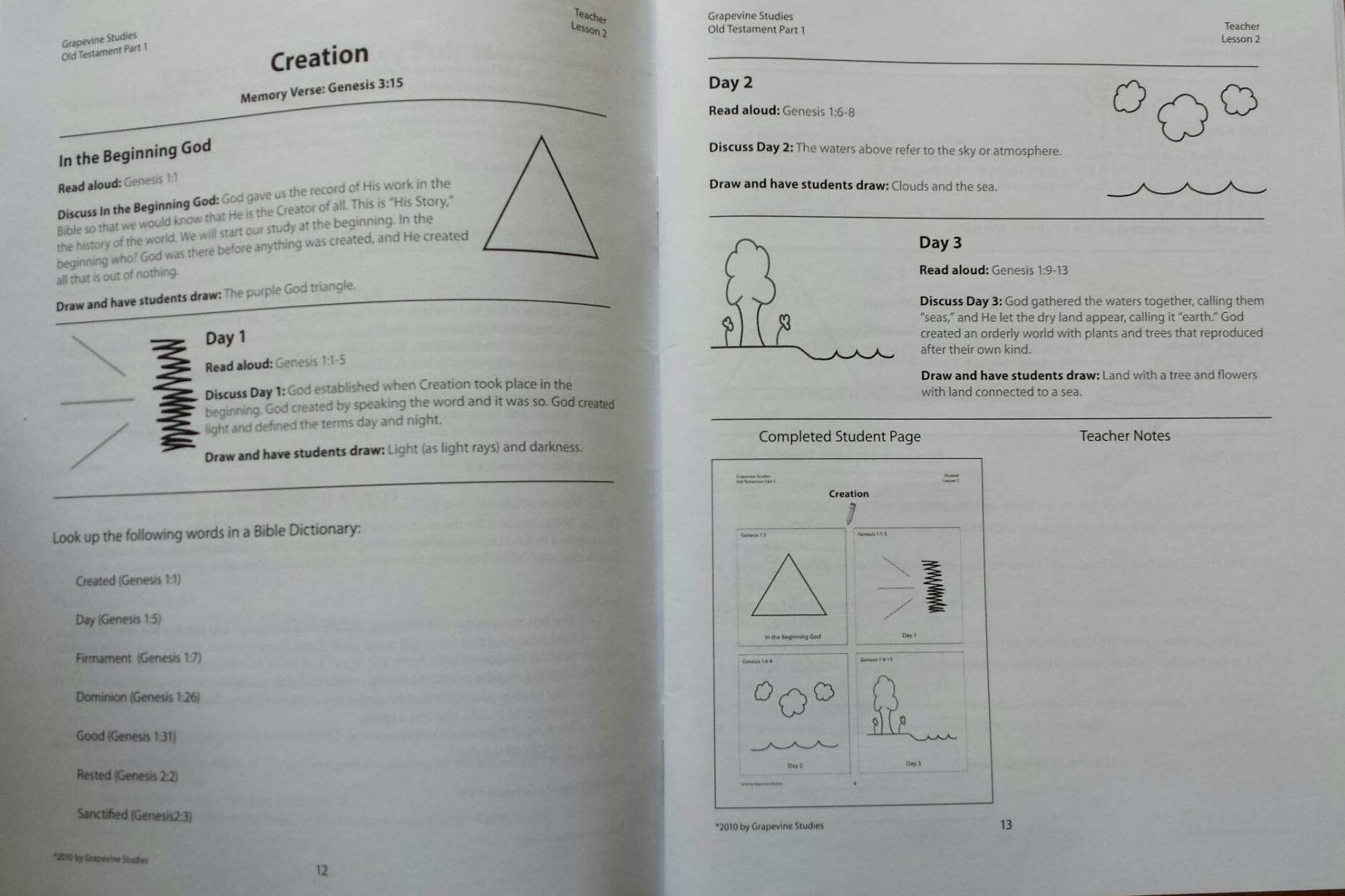 What I love about Grapevine Studies!
I have been super impressed with Grapevine Studies! I love that all my kids can participate, even my 3 year old. She loves tracing the images and it gives her something to do while she listens to the story. I love how it appeals to all my kids learning styles and is so hands on. I love that it brings the Bible to life and gets my kids engaging with the story! I love how it is easy to teach and doesn't require a lot from me (open and go people, open and go!).
All of my kids thoroughly enjoy the lessons and there are SO MANY great ones to choose from. If you have been considering your options for Bible curriculum this year, make sure you check out Grapevine Studies! I know you will love it as much as I do! And to top it all off they have an amazing bundle sale on ALL bundles until the end of August! This is 20% off your bundle PLUS a free wall timeline! Simply CLICK HERE or on the image below to grab your bundle today!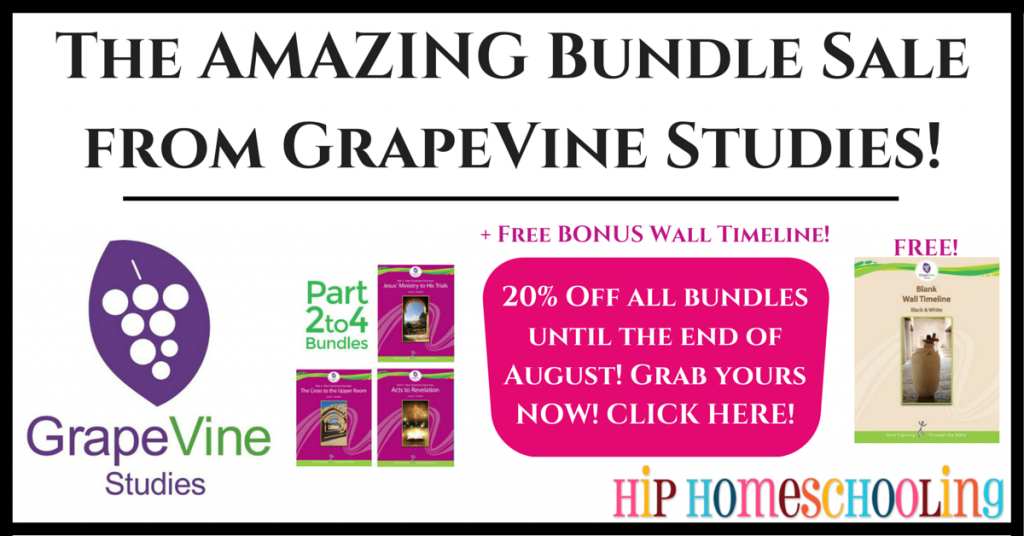 COMMENT BELOW: Had you heard of Grapevine Studies before?