If you are new to bullet journaling, you probably have seen that most pictures are using the Leuchtturm1917 as their bullet journal. Many people start with this notebook because they think that is what they are supposed to do (I did!). Today I am going to share exactly WHY many bullet journal enthusiasts use this notebook and compare it with a Traveler's Notebook system. We'll be talking pros and cons and I'll share what I am using and why as well as how much each system is and where to find them! Ready?
The Leuchtturm1917 Bullet Journal Notebook
The most common notebook is definitely the Leuchtturm1917. This is most often used in either grid or dot grid format for bullet journaling enthusiasts. It is sold as either a hard or soft cover and has about 250 pages of thick cream-colored paper with an index in the front to track your pages and collections. It starts at about $19.50 and is available in most stationary shops or you can find it online at Amazon.ca here or Amazon.com here.
Some of the main features of this notebook are:
Bookmark ribbons
Acid free paper
80 gsm weight paper
249 numbered pages plus an index
A pocket in the back of the notebook
Available in a wide variety of bright colors
Large size: 5.75×8.25 inches
Available pen loop for additional purchase
It really is a quality notebook and the numbered pages make it ideal for bullet journal enthusiasts everywhere. For me, the best qualities of this notebook (aside from paper thickness and quality) is the size and the ability to have everything in one place. The main downside with this notebook is the fact that everything is in one place, you can clearly index everything to find it, but it isn't as organized as my brain wants it to be.
Traveler's Notebook with Inserts as a Bullet Journal Notebook
Bullet journaling with a Traveler's Notebook is a little less common. The beauty of this system is that you have separate inserts for the different areas of your life, you can choose any color or pattern for your inserts and you can customize the inserts to suite your needs. First off, the price. In order to use a Traveler's Notebook and inserts, you need to purchase a Traveler's Notebook. This is generally a leather rectangle with elastics in the middle that is held closed with an elastic. You can place inserts through the elastics and then you just refill it when your inserts are full. Some people make their own with fabric (check out my homemade tutorial here) or even old books. The sky is the limit! Though leather is the most popular type and what I personally use.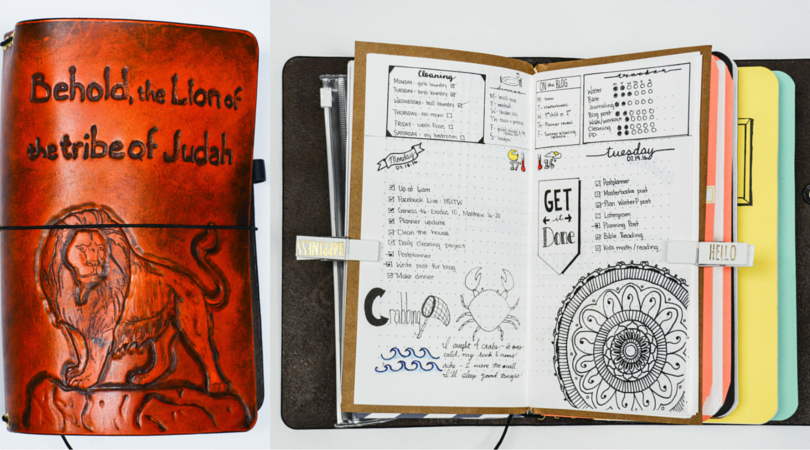 Because there is such a broad range of Traveler's Notebooks (TN) out there, prices vary drastically. I had mine custom made from THIS SHOP (get 10% off with coupon code HipHomeFun), I have also used his DIY kits and dyed them for a more personalized TN. You can get one (depending on the size) anywhere from $30-$200. Like I said, no easy answers as far as the price goes. Once you have your TN, you need to grab some inserts. I had mine made from THIS SHOP and she used 28lb. paper which I love. It is even thicker than the Leuchtturm1917.
Some of the main benefits to this bullet journal notebook are:
Refillable inserts mean more up front, but your TN can be used for life
It is more customizable to you
It can be more organized because your inserts are separate (ie. a collection insert, a daily insert, a meal planning insert, etc.)
It is pretty and inspirational in and of itself
Some of the disadvantages of this system is that it is more of an initial investment, and generally your notebooks are smaller than the Leuchtturm (though you CAN purchase extra wide TN to fit custom extra wide inserts, so this doesn't have to be a disadvantage if that is important to you).
What Bullet Journal Notebook I Use
Here is where I am not sure how helpful I am because I use both. I have a Leuchtturm1917 that I am using as my business bullet journal (see the video walkthrough here) but for personal use, I use a custom-made, extra-wide Traveler's Notebook (see the video walkthrough here). For my personal life, I love the feature of having my life a little more segregated, but not too much where I can't keep up. I have minimized my inserts to just the bare minimum. I have 1 collection insert, 1 day-to-day/weekly insert, and 1 faith-based/prayer insert. I also have a small meal planning insert and brain dump insert. I find this a lot easier to flip through and find what I need.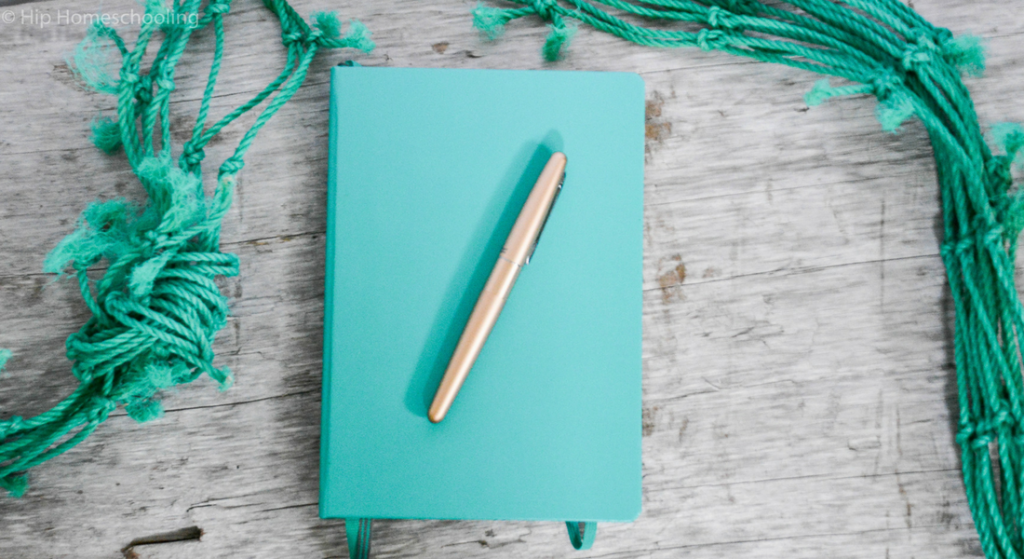 I encourage you to consider what you want to use this for, and if all else fails and you feel totally lost, I always recommend trying a Leuchtturm1917 and seeing what you think. It is the cheaper of the two options to try. Another option if you want to test out the Traveler's Notebook style bullet journal notebook, try making your own and see what you think. Also, don't forget to enter the giveaway to win your own Emerald dot grid Leuchtturm and a beautiful gold fountain pen from Goulet Pens HERE (ends October 16th).
Top 10 Bullet Journal Pros to Stalk
Tomorrow's post is going to be all about the top people that inspire me and have brought me where I am today!
Did you know this is part of a 31 day series? There will be a post each day this month showcasing how I use bullet journaling, planning, hand lettering, and more! We will talk about the tools you need and I'll review some of my pen hoard (including my brand new flex fountain pens, eeeeek!). There will be videos, pictures, hand lettering practise pages, doodle challenges, journaling prompts, some amazing giveaways, and hopefully a TON of inspiration to get you writing in your planner, whatever that may look like for you! How can you get on board?
BOOKMARK THE LANDING PAGE (that is where all the posts will be added throughout the month)
FIND ME ON INSTAGRAM (I'll be posting the daily posts there)
USE THE HASHTAG: #PlanWithRebecca or #planninginspiration4u on Instagram for a chance to be featured on my page!
JOIN THE NEWSLETTER (if you want an short update on the latest post in your inbox)
What do you use for your bullet journal notebook?